A result-oriented strategist and a leader with over two decades of experience in building high performing teams to deliver Proven track record in P&L management with strong Sales and Marketing acumen, business transformation, new models, improving customer experience. An enthusiastic Professional, Post Graduate into Sales and Marketing Management, turned around brands and have been instrumental in successfully setting up start-ups, helping them emerge as Industry leaders in short span of time, having served some of the established brands and start-ups into Consumer Durables and Service Industry. An early riser, loves being close to nature, passionate about reading books on Leadership and spends his leisure time playing Badminton and Carrom.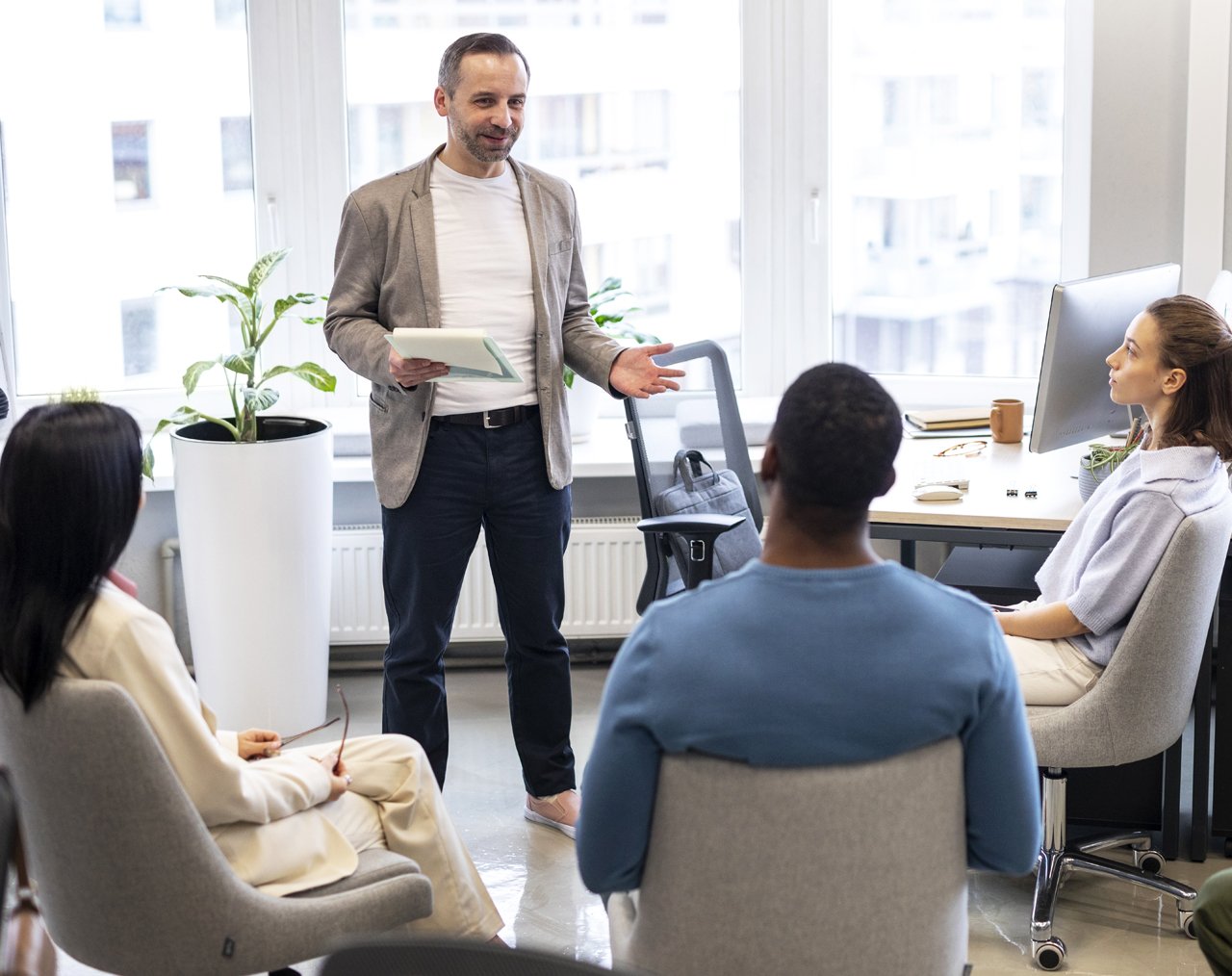 What have you found most challenging as a leader?
Efficiently identifying and nurturing top-tier talent to become industry leaders is a critical aspect of business success, particularly during the challenging startup phase. When launching a new venture, securing exceptional team members can be daunting, especially when facing financial constraints and lacking an established brand reputation. However, with a clear focus and a deep understanding of your objectives, it's possible to assemble the right team. The key lies in unwavering determination. It's vital to adhere to your standards and maintain the conviction that you won't compromise on candidate quality. Even in situations where others may rush and settle for readily available options, your commitment to patiently searching until you find the perfect fit can make all the difference.Many leaders may succumb to time pressures and make hasty decisions, ultimately compromising on talent. But by adhering to your principles and continuously seeking the ideal candidate, you set the foundation for a team that aligns with your vision and can drive long-term success. Compromising and hiring what is easily available.
How did you become a leader? Can you please briefly tell the story?
Throughout my career, I've embraced an entrepreneurial approach. If I were to categorize my professional journey into three distinct phases:Front-Line Sales Professional: In the initial stage of my career, I served as a dedicated and results-driven front-line sales professional.

Operations and Business Learning: During the second phase, I broadened my horizons by delving into operations and gaining valuable insights into the broader business landscape.Leadership Role: Over the past seven to eight years, I've transitioned into leadership roles where I've had the privilege of spearheading teams and initiatives. One of the standout accomplishments in my career was my role in my most recent assignment. In 2015, I pioneered a new model in B2B transportation, establishing a company from the ground up while operating on a bootstrap budget. Within a remarkably short span of just 3.5 years, we scaled the company to include over 100 employees and achieved substantial growth in our top-line revenue. I've embarked on a new venture, CT, during the height of the COVID-19 pandemic in Year 2021. With CT, we are actively addressing the complex and critical issue of employee commute challenges faced by enterprises.
How do you structure your work days from waking up to going to sleep?
I adhere to an early morning routine that sets the tone for my productive day. My day typically begins with a 60-90 minute session dedicated to workouts, reading, yoga, and meditation. By 9:30 am, I'm at my desk, ready to dive into work. Before officially starting my day at 9:30 am, I take a quick look at my emails, focusing on addressing priority items promptly. The remaining emails are attended to after 9:30 am. The morning kicks off with a concise 20-minute team meeting, where we align on goals and priorities. The first half of the day is typically reserved for client meetings.In the second half of the day, I dedicate my time to collaborating with teams, actively engaging in process improvements, and focusing on tasks geared towards business growth. I wrap up my day with a brief team meeting to ensure everyone is on the same page. This structured routine allows me to maintain a healthy work-life balance while maximizing productivity and fostering teamwork within the organization.
What's a recent leadership lesson you've learned for the first time or been reminded of?
Never give up attitude has been reminded off again with the recent client transition. Our unwavering determination was put to the test during a recent client transition. We were awarded the contract on June 7th, with our original commitment to take over operations by August 1st. However, by June 15th, the client expressed concerns, warning us that we were on the brink of failure. By July 20th, with only 60% of the transition completed, the client lamented, "We made a mistake by bringing you in." Undeterred, we forged ahead, working around the clock with unwavering dedication. The entire team remained on high alert 24/7 for two months straight. Ultimately, our perseverance paid off, and we successfully assumed control of the entire operation by July 30th. This experience underscores our relentless commitment to delivering results, even in the face of seemingly insurmountable challenges.
What's one book that has had a profound impact on your leadership so far? Can you please briefly tell the story of how that book impacted your leadership?
I'm primarily drawn to non-fiction literature, and the vast array of books in this genre offers a wealth of knowledge. Titles such as "Atomic Habits," "5 AM Club," "Good to Great," and "Let's Build a Company" have all left a lasting impression on me. While it's challenging to pick a favourite among these great reads, if I had to choose, "Atomic Habits" would be my top pick. "Atomic Habits" delves into the transformative power of making subtle changes in our habits, illustrating how these small shifts can yield significant impacts in our lives. This concept has proven invaluable in my role as a mentor and team leader. It has allowed me to provide concise guidance to my teams, helping them navigate complex situations and enhance their productivity. I want to emphasize that this approach doesn't advocate for micro-management. Instead, it promotes a collaborative approach where we work together on small, meaningful adjustments with our teams. This fosters a strong connection and rapport, ultimately driving improved results and team cohesion.
If you could only give one piece of advice to a young leader, what would you say to them?
Degrees lose their significance as one progresses in their career; what truly counts are one's dedication and hard work. The paramount quality for a leader is a visionary mindset, often referred to as "BADI SOCH," coupled with a relentless commitment to execution. In any job or profession, assuming ownership, taking initiative, and adopting an entrepreneurial mindset are pivotal steps toward achieving success. Especially in the early stages of one's career, the focus should not solely be on income. Instead, the direction in which you are heading and the quality of mentorship you receive hold greater importance.
What is one meaningful story that comes to mind from your time as a leader, so far?
In 2019, we were in the midst of a crucial pitch with a major multinational corporation, with the potential to contribute nearly 30 crore annually to our business. On January 10th, 2019, I found myself personally leading this client engagement from day one. Over the preceding 10 months, we had been diligently working on the Request for Proposal (RFP), and this day marked our final presentation. However, I faced an unexpected challenge – I was battling a high fever of 103 degrees Fahrenheit, and I could barely sit upright, let alone deliver a presentation. Despite this critical client engagement and its significance for our company, I made the resolute decision to be present and take the lead. Alongside my five dedicated colleagues (our entire leadership team) we arrived at the client's office at 2 pm for a scheduled 2:15 pm meeting. Given the chilly January weather in Delhi, I requested a cup of hot water during our initial chat. I also took a moment for a one-on-one discussion with our point of contact, explaining my situation. They showed understanding and empathy upon seeing my condition. The presentation commenced promptly at 2:15 pm. For the initial 30 minutes, everything went smoothly within our allocated 45-minute time slot. However, suddenly, I began to cough intensely in the presence of approximately 15 people. Without hesitation, one of my colleagues, who had been actively involved in this engagement since day one, recognized the urgency and seamlessly took over. He continued the presentation with confidence, while I filled in where necessary, seated beside him. Upon concluding the presentation, the clients expressed their admiration for our offerings and the way we had meticulously addressed their challenges. On February 19, 2019, we had the signed agreement in hand, marking a significant achievement and a testament to our team's dedication and adaptability.
Reference URL: https://www.consultclarity.org/post/7-questions-with-sachin-agrawal